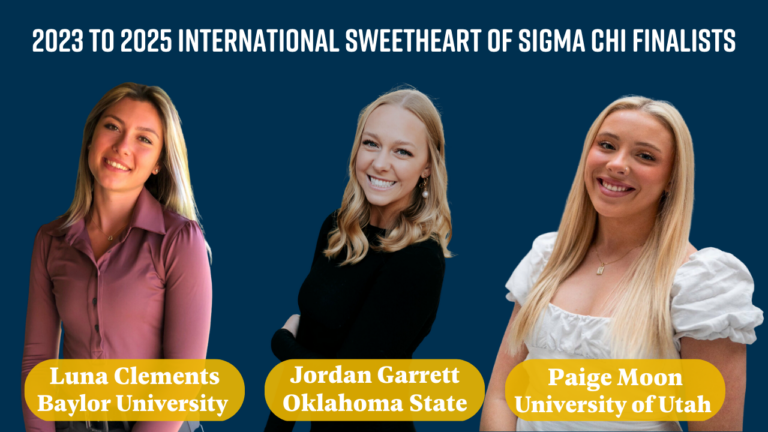 Evanston, Illinois — The Sigma Chi International Fraternity announced on April 25 the names of three finalists who are vying to become the 2023 to 2025 International Sweetheart of Sigma Chi and represent the Fraternity as an example of strong character, poise and grace. They were chosen from a pool of 15 applicants from the United States and Canada.
The finalists are Jordan Garrett of Oklahoma State University, Paige Moon of the University of Utah and Luna Clements of Baylor University. The 2023 to 2025 International Sweetheart will be chosen in June through a vote of undergraduate delegates at the 84th Grand Chapter at the Westin Harbour Castle Hotel in Toronto, Canada.
Garrett is a senior majoring in human development and family sciences with a focus in child and family services. She intends to earn a master's degree in applied human services after graduating in May. Garrett holds a 3.95 GPA and currently works with children to analyze their health needs and assist with their playtime and extracurriculars. She also is a member and former vice president of recruitment of the Pi Beta Phi women's fraternity chapter at Oklahoma State University.
Moon is a sophomore studying finance with a 3.87 GPA. She is a member of her school's Women in Finance Club and has been a teaching assistant for two courses. She has been a volunteer with Friends for Sight since 2021 and is a licensed vision screen specialist who visits elementary schools across Salt Lake City to screen students for vision impairments. She is vice president of membership for the Delta Gamma Sorority chapter at the University of Utah.
Clements is a senior who is studying business administration with an emphasis on management. Currently she works as a field compensation scholar lead at Unum, an insurance company. Clements also volunteers with therapy horse riding and assists riders with disabilities in the Special Olympics World Games. She also is a member and former fundraising chair for the Zeta Tau Alpha women's fraternity chapter at Baylor University.
The three finalists will be introduced during the 84th Grand Chapter's delegate orientation session on June 22. The 2023 to 2025 International Sweetheart will be announced during a reception on June 24.
For more information on the International Sweetheart program, contact Barbara Sara, member awards and recognition coordinator, at barbara.sara@sigmachi.org.