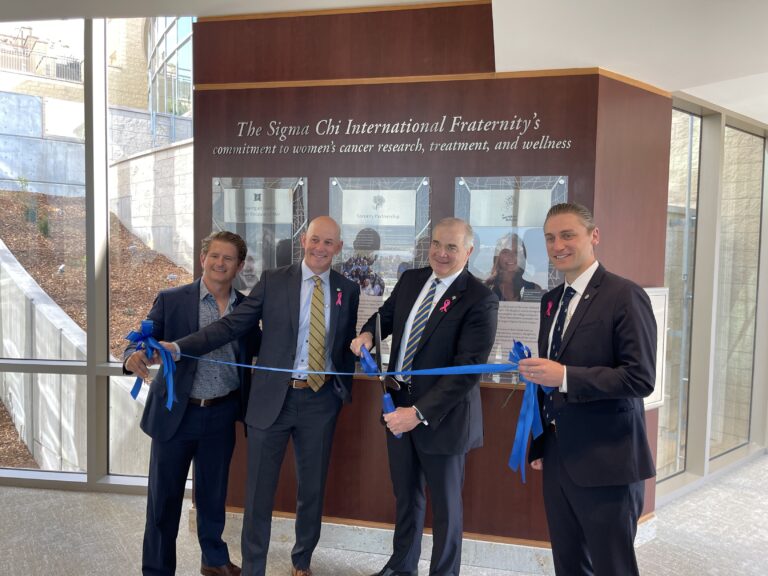 May 8, 2023 | Salt Lake City — The new Kathryn F. Kirk Center for Comprehensive Cancer Care and Women's Cancers at the University of Utah's Huntsman Cancer Institute (HCI) in Salt Lake City was dedicated May 8, 2023, with a ribbon cutting and tours of the facility.
Sigma Chi International Fraternity, one of several major donors to the facility, has raised $9 million of a $20 million pledge to the Huntsman Cancer Foundation (HCF) in support of women's cancer research, treatment and wellness at HCI during the 82nd Grand Chapter in Salt Lake City in 2019. The Fraternity fulfilled an $11 million pledge in February 2022 and to date has raised more than $20 million in support of the Huntsman Cancer Institute. HCF has been the Fraternity's preferred philanthropic partner since 2005.
"Sigma Chi International Fraternity is proud of our philanthropic partnership with the Huntsman Cancer Foundation, and we firmly believe in our mantra that we are the generation to end cancer," 72nd Grand Consul (International President) Tim Sanderson, WESTERN 1985, says. "Women play such an important role in our lives and in support of our Fraternity, and we are honored to have played a role in helping fund the mission of the Kathryn F. Kirk Center."
The center allows the HCI to expand by 220,000 square feet, add 48 new inpatient hospital rooms and increase clinical care capacity by 50 percent. In addition, it includes four floors of clinical space, as well as an entire floor dedicated to breast and gynecologic cancers; an expanded wellness and integrative health center; a new endoscopy center; a new blood and marrow cancer treatment space; two floors of faculty offices as well as an oncology faculty workspace; and two floors available for future build-out based on patient needs.
References to Sigma Chi can be found throughout the building. There is the Sigma Chi International First Floor, the Sigma Chi International Fraternity Bridge of Hope, and the Sigma Chi International Fraternity Outdoor Deck. The Bridge of Hope leads directly into the first floor to connect the current hospital lobby to the first floor of the center.  
A groundbreaking for the center was held Sept. 1, 2019. The first outpatient visit at the center is scheduled for June 5, with inpatient care beginning June 21.
"Many generous donors came together to make this latest expansion of Huntsman Cancer Institute possible," says Peter Huntsman, chairman and CEO of Huntsman Cancer Foundation. "The Kathryn F. Kirk Center assures that the people of Utah and surrounding areas have access to the world's best cancer research and patient care delivered by highly trained experts in all types of cancer."
Order of Constantine Sig and Significant Sig Jon Huntsman, PENNSYLVANIA 1959, his wife, Karen, and their family founded the Huntsman Cancer Foundation in 1995 to guarantee cutting-edge research at the Huntsman Cancer Institute, which they also founded that year. HCI is home to over 325 clinical trials and 250 research teams studying cancer at any given time. It also has discovered more genes for inherited cancers than any other cancer center in the world. HCI, the official cancer center of Utah, serves a five-state area in the Mountain West and is the only National Cancer Institute-designated Comprehensive Cancer Center in the region.