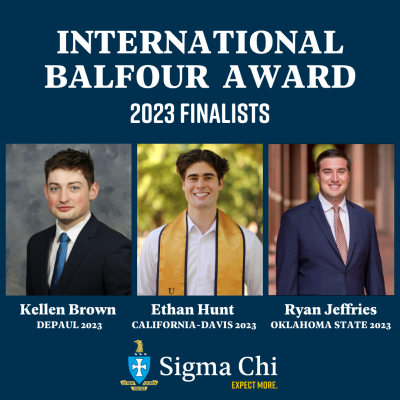 EVANSTON, ILLINOIS — The Fraternity has named the following finalists for the 2023 International Balfour Award (IBA): Kellen Brown, DEPAUL 2023; Ethan Hunt, CALIFORNIA-DAVIS 2023; and Ryan Jeffries, OKLAHOMA STATE 2023. The honor is presented annually to the person who is believed to be the Fraternity's most outstanding senior based upon his success in academics and campus, community and Sigma Chi involvement.
The finalists will be interviewed by a selection committee during the 2023 Krach Transformational Leaders Workshop at Bowling Green State University in Bowling Green, Ohio, and the winner will be announced at the conclusion of the event on Aug. 5.
Brown will graduate from DePaul University in Chicago with a degree in political science and minors in history and Russian language. He is a member of the Army ROTC and will commission into the Army as an active-duty military intelligence officer after graduating. While in the Army ROTC, he serves as the program's battalion commander and is the first DePaul cadet to be appointed to this position in a large battalion of cadets from five different Chicago-area schools. Brown has held several leadership positions on campus. He was elected Consul of his chapter his junior year and has held various student government positions, including serving as chief of staff, where he led multiple critical student initiatives.
Hunt will graduate from the University of California, Davis with a double major in genetics and genomics and Spanish with the goal of attending medical school to become a physician who serves underprivileged Spanish-speaking communities in the state. He is active in several research positions, including as a research associate at the Vogel Lab on campus, serving as a group project co-administrator for connecting DNA testers with ancient Irish royal dynasty, and conducting pro-bono genetic genealogical research on the behalf of adoptees searching for biological family. In Sigma Chi, Hunt served as Tribune and Consul as well as serving as his campus's Interfraternity Council president. He became the first brother in his chapter's history to have held both the positions of Consul and IFC president.
Jeffries will graduate from Oklahoma State University in Stillwater, Oklahoma, with a degree in finance and minors in marketing and energy finance. Activities include being a member of the Financial Management Association, Spears School of Business Mentoring Program, Tulsa Young Professionals, Native American Student Association, Spears School of Business Ambassador and the Spears Sales Club. Internships include being an audit intern, commercial development intern, Commercial Eastern Interstates intern and private bank analyst at J.P. Morgan Chase & Co. In Sigma Chi, Jeffries has held the roles of philanthropy chairman, head recruitment chairman, Pro Consul and Ritual chairman. He also has served on several Fraternity committees, including the Chapter Pledgeship, Chapter Risk Management and Chapter Judicial Boards committees and serving as the undergraduate representative to the Sigma Chi Leadership Institute Board of Directors.
Before being named IBA finalists, Brown, Hunt and Jeffries were province and chapter Balfour Award winners.
The 2023 IBA winner will join the previous year's honoree and two undergraduate representatives to serve on the Fraternity's Executive Committee. The IBA winner will serve on the committee for two years as an advocate for undergraduates.
The winner and runners up also will receive a scholarship from Sigma Chi for their postgraduate education thanks to support from In Hoc Napa Valley and Significant Sig Brandon Chaney, INDIANA 1993.