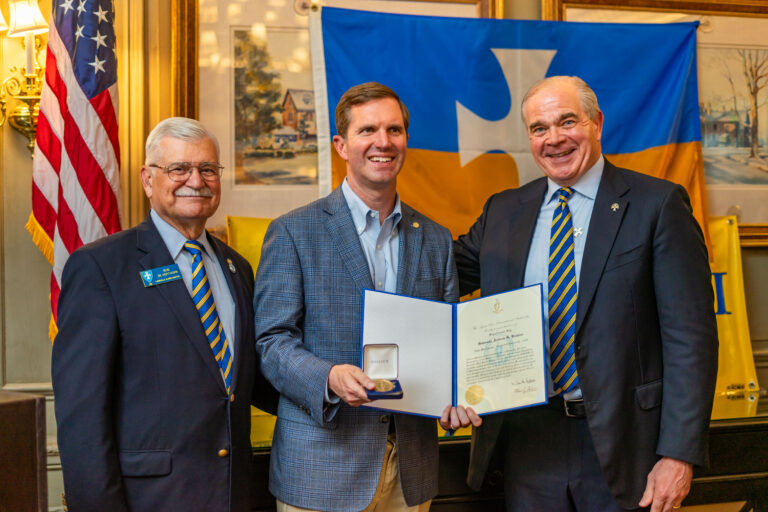 JUNE 16, 2023 | HURTSBOURNE, KENTUCKY — Sigma Chi International Fraternity 72nd Grand Consul (International President) Tim Sanderson, WESTERN 1985, presented Kentucky Gov. Andy Beshear, VANDERBILT 2000, with the 2023 Significant Sig Award during a reception hosted by the Louisville Alumni Chapter at the Hurstbourne Country Club on Friday, June 16.
The Significant Sig Award, presented annually, is one of the Fraternity's highest honors and recognizes those alumni members whose exemplary professional achievements have brought great honor and prestige to the name of Sigma Chi. More than 1,900 brothers have been recognized with the award since its introduction at the 1935 Grand Chapter.
"Gov. Beshear's service to his state, including leading its citizens through several difficult moments in state history, is commendable," Sanderson says. "His leadership, unwavering value of public service and commitment to the betterment of others have brought new luster to the White Cross of Sigma Chi. We are honored to present him with the Significant Sig Award."
Beshear, elected in 2019, is the 63rd governor of Kentucky. He led the state through the COVID-19 pandemic, making decisive public health choices and protecting the lives of Kentucky citizens, often in the face of pushback. He also guided the state through a devastating tornado and flooding in 2021, establishing the Team Western Kentucky Tornado Relief Fund to assist those impacted by the severe weather. Prior to assuming the governorship, Beshear was elected as the state's attorney general. In that role, he combated the opioid crisis by organizing a special office to investigate and prosecute the illegal drug trade.
"It's an honor to be awarded the Significant Sig Award by my fellow Sigma Chi members, whom I admire and respect. During my career, I've stayed true to my faith and focused on doing what's right to help more Kentucky families live the lives they deserve. It means a great deal to see the progress we've achieved together celebrated by an organization that has played an important role in my life," Beshear says.
Sigma Chi is one of the largest collegiate fraternities in North America with undergraduate chapters at 231 universities and colleges and more than 365,000 all-time members. Sigma Chi provides a welcoming environment for young men of different temperaments, talents and convictions to enjoy a unique lifelong bond that extends far beyond college. Through world-class leadership training, extensive mentoring programs and a strong focus on academic achievement, Sigma Chi sets itself apart as the preeminent collegiate leadership development organization, challenging members to live by its core values and exemplify Character-in-Action™ in every aspect of their lives, and the lives of others.