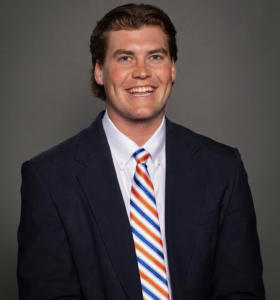 "He was the guy everybody looked up to and wanted to be," says Boise State Consul Clay Beach when remembering Andrew Walker, "the quintessential Sigma Chi who really set the standard high for our chapter."
Brother Walker, 23, died suddenly while running a marathon May 28, 2023. The Sigma Chi legacy graduated in 2022 and became a graduate assistant for Boise State's football team. He was Captain of their acclaimed Lacrosse team, attended Krach Transformational Leaders Workshop, was Lambda Xi's Risk Manager and as Rush Chairman he recruited half the current chapter membership. "He has left a lasting impact on our chapter," Beach says.
His father, Jim, is also a Sigma Chi (University of Washington, '83). He remembers pinning Andrew's pin on his chest during initiation. "I went to a few chapter meetings there and it was pretty special." Jim is grateful for the scholarship honoring his son.
"He was a kind and pure soul, that's for sure," says chapter mate Ethan Kistner. "All the guys are definitely devastated."
Please join us in honoring this charismatic and energetic brother for many years to come through the "Andrew Walker Memorial Scholarship" for his chapter mates annually who best exemplify Andrew's character, with a plaque remembering Andrew permanently mounted in the chapter house.
We join the Lambda Xi Chapter and Boise State football team in extending our deepest condolences to his family and friends, with special strong arms for his father Jim, remembering a young man who was deeply loved and respected.
Said Boise State head football coach Andy Avalon: "Our program, university and community suffered an immense loss. Andrew Walker was an unbelievable young man with the world in front of him and the spirit to accomplish anything he desired. His infectious smile and energy will not be forgotten. Those of us who were lucky enough to be graced by his presence will carry it in us from here forward."
All Honor To His Name.