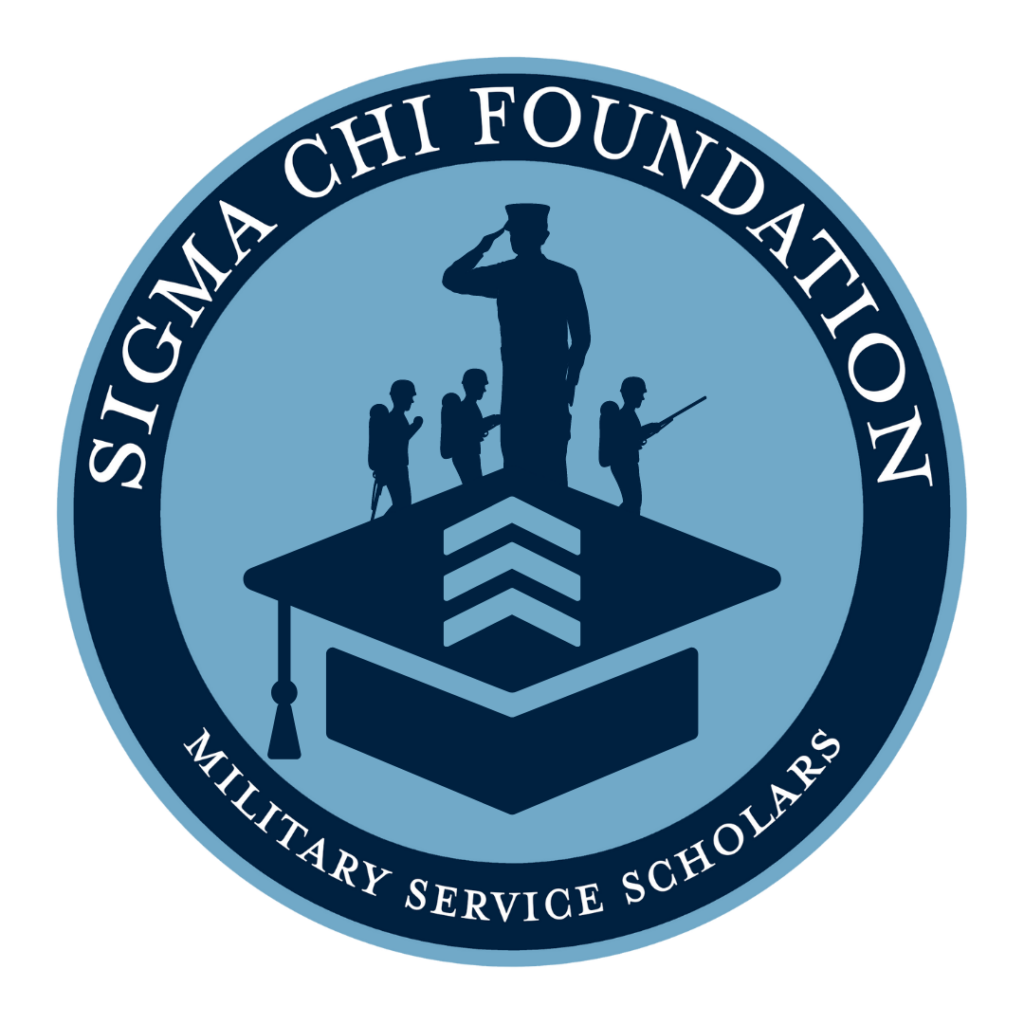 Military Service Scholarship
The Sigma Chi Military Service Scholarship was established to provide support to our brothers who intend to continue their undergraduate or graduate education during or following military service.
This award was made possible through the lead donations of Significant Sigs Tim Michael, OHIO STATE 1970; John Berylson, BROWN 1975; and Dr. Dan Walsh, SOUTHEAST MISSOURI 1971, among others, and is available to brothers who are currently serving or have served in any branch of their country's military.
Since the 2013 to 2014 academic year, 96 scholarships totaling $219,500 have been awarded to military Sigs. 
Applications for the Sigma Chi Military Service Scholarship are available from February to April each year. Note that ROTC students are not eligible for this award.
For more information or to apply for the award, click here. 
 To further our support of our young military Sigma Chi brothers, click here to make your gift today.
2023 to 2024 Military Service Scholarship Recipients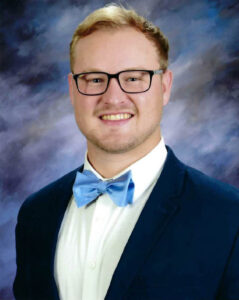 A major in Accounting, Eagleton holds a 3.2 GPA at the University of Oklahoma. Prior to attending college, he was honorably discharged as Sergeant within the United States Marine Corps, with whom he served for four years including two tours of duty across the Middle East and Asia. He is a two-time recipient of the Sigma Chi Military Scholarship.
As an older active brother within the Beta Kappa chapter, and a Sigma Chi legacy, Eagleton has served as a member of the chapter's executive team and as a leadership mentor during the Preparation for Brotherhood program utilizing his experience during his service to encourage young men to achieve their goals. 
He has earned mention on the Dean's and President's Honor Roll and has been honored with six scholarship awards, including this one. Upon graduation in the spring, he plans to pursue a master's in accounting and earn a CPA certification.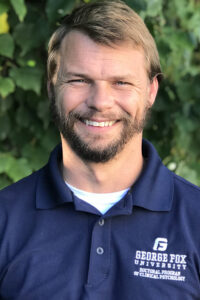 A 2018 Psychology graduate at Willamette and Master of Arts graduate at George Fox University in Newberg, Oregon, Hanks is presently attaining his Doctorate in Psychology with long-term goals including work to improve mental health treatment among veterans. He is a four-time recipient of the Sigma Chi Military Scholarship.
Hanks was honorably discharged as a Sergeant within the United States Army where he participated in Operation Iraqi Freedom from both Kuwait and Baghdad. He received multiple awards, including two Army Commendation Medals, during his service. During his service, he was stationed in Germany and also spent 14 months in the United States Army National Guard working for the 187th AVCRAD aviation unit out of Fresno, California.
During his two years at Willamette, Hanks served his chapter as Kustos, Judicial Board President and Community Service Chair. As alumni, he's served as Chapter Advisory Board Member. A now four-time recipient of the Military Service Scholarship, Hanks has been actively involved volunteering within the homeless community in Oregon and also regularly facilitates outdoor activities and mental health education for veterans through the Source One Serenity organization. He also provides therapy services for students and young adults at the Chemawa Indian school in Salem, Oregon.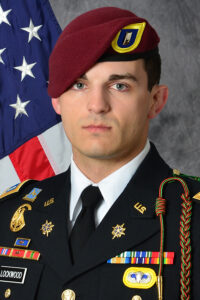 A graduate of both South Florida and Liberty University, Capt. Lockwood is presently attending Harvard University where he is expected to graduate in May 2025 as a Master of Arts in International Relations to further help contribute towards solutions on the international stage. He is a five-time recipient of the Sigma Chi Military Scholarship.
In his ninth year of active-duty service with the United States Army, with six deployments during his career, Lockwood has spent the majority of his service in the airborne and special operations communities. He has led troops in combat in two war zones as well as complex operating environments within Asia. After serving in Afghanistan, he was selected to serve as the first-ever intelligence officer in the 1st Battalion, 5th Security Forces Assistance Brigade, a unit created by the Army specifically focused on training and advising foreign security forces. Lockwood has been honored with more than 20 awards during his service including the Bronze Star and Meritorious Service medals.
At South Florida, Lockwood served the Theta Beta chapter as Consul, Quaestor, Magister, IFC Representative, Philanthropy Chairman and Assistant Magister. He was an intern at J. Dwight Peterson International Fraternity Headquarters and served as an undergraduate representative on several International Fraternity committees. As an alumnus, he has served as a program facilitator, chapter advisory board member and on multiple international committees.
He has volunteered for the United Nations' Tanzania Development Program, the United Nations' Ocean Action Campaign and as a volunteer consultant for a private non-profit intelligence firm countering human trafficking in the United States.
$1,000 AWARDS
Cpl. Garrett Clark, TULSA 2026
Clark is in his second year at the University of Tulsa, where he holds a 3.2 GPA in pursuit of a degree in Mechanical Engineering.
He was honorably discharged following four years of service in the United States Marine Corps, where he was deployed twice to the Middle East. Following graduation, he plans to reenlist in the Marine Corps as an officer.
Spc. Montana Hohensee, OKLAHOMA 2024
Hohensee is entering his final year at the University of Oklahoma, where he holds a 3.2 GPA in pursuit of a degree in Electrical Engineering and Applied Mathematics.
He was honorably discharged following eight years of service to the United States Army, where he was deployed to the DMZ in South Korea and across the Middle East, receiving numerous Army medal and certificates of achievement. Following graduation, he plans to pursue a professional engineering license in the state of Oklahoma and establish multiple businesses while employed as an electrical engineer.
SrA Wesley Mory, NORTH TEXAS 2018
Mory is entering his fourth year as a Management Information Systems major at Texas A&M University where he holds a 3.77 GPA.
Presently serving in the United States Air Force Reserves, Mory has attained the rank of Senior Airman in his four years of service including deployments to both Africa and Iraq. He was named 317th Squadron Airman of the Year in 2020 and has receive multiple honors and medals for his ongoing service. Following graduation, he plans to commission in the Air Force Reserve as an intelligence officer and work for Intel Corporation.
$750 AWARD
Sgt. Jungwoo Suh, ROCHESTER 2025
Suh is entering his third year as a Finance major at the University of Rochester where he holds a 3.5 GPA.
A native of Korea, Suh was honorably discharged from the Korean Army where he served a 9.5-month deployment to Lebanon, earning four awards from the Republic of Korea as well as a United Nations Peacekeeping Medal. He plans to pursue a career in finance and investment management to help promote economic growth and development in destressed areas such as Lebanon.
2022 to 2023 Military Service Scholarship Recipients
$1,500 AWARDS
John Ferguson, EMBRY RIDDLE-DAYTONA BEACH 2024
$1,000 AWARD
Nicholas Abeyta, NORTHERN COLORADO 2021
Kewei Hu, CARNEGIE MELLON 2023
Aaron Lund, MINNESOTA 2024
Michael Vasquez, BINGHAMPTON 2023
2021 to 2022 Military Service Scholarship Recipients
$1,500 AWARDS
Howard Acosta, TULANE 2014
Josh Brewer, TEXAS A&M-COMMERCE 2017
Kewei Hu, CARNEGIE MELLON 2023
$1,000 AWARD
Bryce Vandenburg, ALBION 2022
Folds of Honor Scholarship