An American Hero: Significant Sig Col. Ralph Puckett, Jr.
On November 25, 1950, 23-year old then First Lieutenant Ralph Puckett, GEORGIA TECH 1946, commander of the Eighth Army Ranger Company, was leading the advance of the 25th Infantry Division when his heroic actions at Hill 205 in the vicinity of Unsan, Korea went above and beyond the call of duty.
During his action, Puckett led his small force of men through six assaults by hostile forces that out numbered them ten to one. During the attacks, he was wounded multiple times by grenade and mortar fragments and refused evacuation.
When their position was in danger of being completely overrun, he ordered his men to leave him behind. They disobeyed the order and retrieved him while under fire. He was honored with a Distinguished Service Cross.
And although he was offered a medical discharge for his wounds, Puckett refused and served theUnited States for more than 50 years.
Along with the Korean War, he fought in Vietnam, earning a second Distinguished Service Cross. Over his career, Col. Puckett also earned two Silver Stars, and five Purple Hearts among numerous military decorations. He was an inaugural inductee into the Ranger Hall of Fame in 1992 and spent 12 years as the 75th Ranger Regiment's honorary colonel.
On May 21, 2021, his Distinguished Service Cross from the Korean War was upgraded to the Medal of Honor with a special ceremony at The White House—making Puckett the sixth Sigma Chi to receive the nation's highest military honor.
President Joseph R. Biden said of Puckett: "He leads from the front. He leads by example. He leads with heart. He is a Ranger, and that's how Rangers lead—that's how you lead."
The Sigma Chi Foundation was proud to host Col. Puckett and distinguished Sigma Chi military leaders during a special event at the National Infantry Museum in Fort Benning, GA on April 23 to add the honor of Significant Sig to this American hero.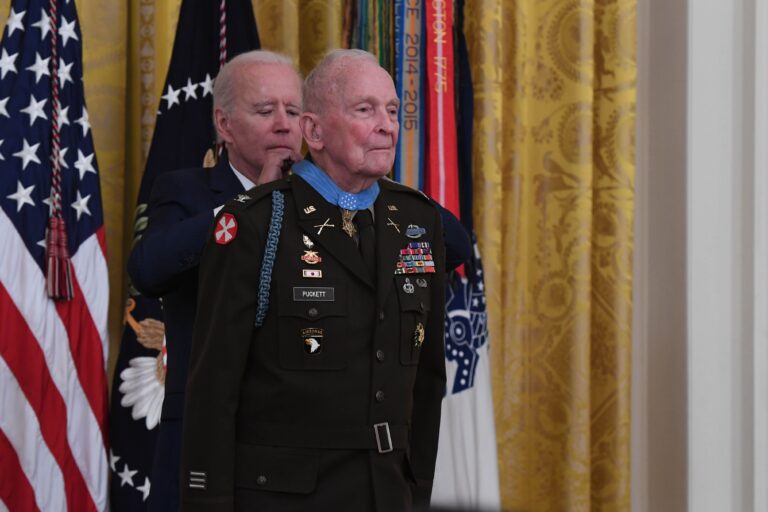 Significant Sig Col. Ralph Puckett, Jr., GEORGIA TECH 1946 , receives the Congressional Medal of Honor from President Joe Biden at The White House on May 21, 2021.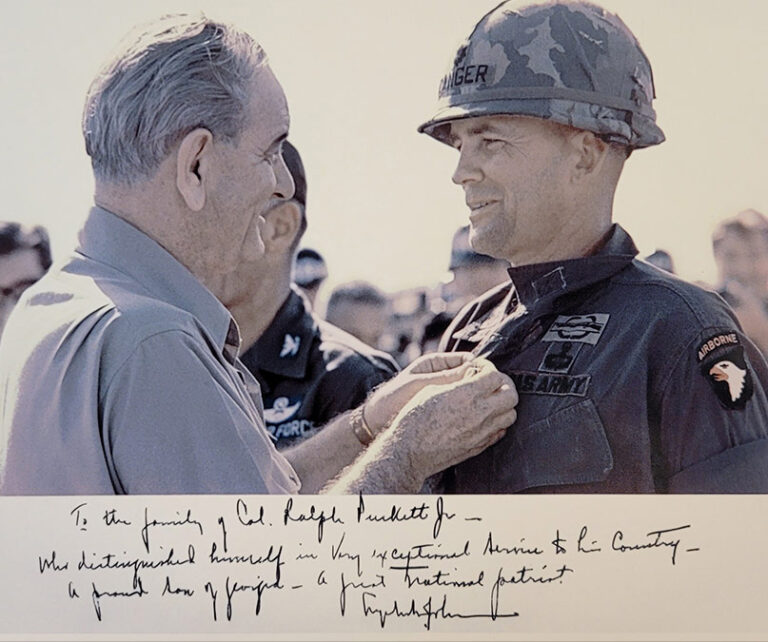 Then 2nd Lt. Puckett receiving his second Distinguished Service Cross from President Lyndon B. Johnson. (Images courtesy of The White House and Puckett Family)
BY COL. JOHN LUBAS, WAKE FOREST 1997
DEPUTY COMMANDING OFFICER FOR OPERATIONS, 101st AIRBORNE DIVISION (AIR ASSAULT)
Note: The following is the special introductory speech given prior to the Significant Sig award presentation to Col. Ralph Puckett, Jr. on April 23 at the National Infantry Museum in Ft. Benning, GA.
_________
I can't tell you how honored I am to play a small part in (this Significant Sig) ceremony. Like many generations of Rangers and infantrymen, Col. Puckett directly impacted my life.
I first met Col. Puckett as a lieutenant, and I am grateful for our routine contact throughout my career as I served as a Ranger Company Commander and Field Grade, and followed in his footsteps to command 2-502 Infantry, "Strike Force," and again as I served as Commander of the Regimental Troops Special Battalion in the 75th Ranger Regiment.
Some of you are familiar with Col. Puckett's life story and his truly phenomenal achievements. Most of you are aware that Col. Puckett served his country in and out of uniform for more than 50 years and you are aware of his valor during the Korean and Vietnam Wars, during which he was awarded five purple hearts, two silver stars and the distinguished cross for his actions in both Korea and Vietnam, one of which was upgraded to the Medal of Honor in 2021.
Most of you know that Col. Puckett formed and commanded one of the first ranger units since the Rangers were disbanded following World War II.
It's worth noting this occurred during a period when the Army was slowly integrating military units. Then Second Lieutenant Puckett selected a diverse group of men that was representative of our society later stating: "In my mind, race, ethnicity, religion or region never counted for much; what mattered was what they had behind their belt buckles and in between their ears. Did they have the guts and brains to be infantrymen and Rangers."
Many of you know that Col. Puckett is considered the architect of the modern-day Ranger Regiment and are aware that he served as Honorary Colonel of the Ranger Regiment for a period 10 years. And most are aware that after he retired Col. Puckett continued his life of service and  that multiple organizations that focused on developing leadership, teamwork and encouraging service to our nation.
Col. Puckett's awards and achievements are many and well-known. But I'd like to share a few more personal memories.
When I was invited to speak at this ceremony, I shared my excitement with the leadership of the 101st Airborne Division and then I reached out to the officers and NCOs I served with in the Ranger Regiment.
Every soldier I spoke with shared a meaningful story of Col. Puckett. And it was really clear just how significant an impact he had made on each. Some recalled Col. Puckett's comments on leadership and selfless service during the Infantry Officer Basic Course, others remembered his words of encouragement at a Ranger School PT test, others still hear his 'Don't quit Ranger' at the turnaround of a 12-mile foot march.
Others remembered a change of command at Fort Lewis, when he moved his chair out from underneath the cover to sit in the pouring rain and share some hardship with his Rangers in formation.
Others were grateful for the lifeline he offered after they were too candid with the RASP (Ranger Assessment and Selection Program) board. And still others shared memories of Col. Puckett entering their TOC (Tactical Operations Center) in Afghanistan or Iraq on a dark or difficult night and his caring words that helped them deal with the loss of a friend.
To a man, every soldier I spoke with shared that the mere presence of Col. Puckett gave them the strength to move further, faster, fight harder, stand taller and strive to be better. He also routinely reminded us to be proud but never satisfied.
Although I've admired Col. Puckett for my entire adult life, it wasn't until several years ago that I learned he was a Sigma Chi — and I wasn't at all surprised.
The similarities between the Ranger Creed and the Jordan Standard are striking, and the virtues demanded by both organizations are nearly identical. Both the Ranger Tab and the White Cross require more of the wearer than the world requires of other men. Like the Ranger Tab, those who wear the White Cross of Sigma Chi accept the responsibility to live by a higher standard.
The Fraternity's founding fathers declared that the White Cross will never be worn over any breast which does not beat with pure, generous and noble emotions, and by no man who is not a man of honor.
As I re-read The Jordan Standard last week, I couldn't help but think as if Isaac M. Jordan was referring to Col. Puckett when he defined the following standard for membership in Sigma Chi: "A man of good character, a student of fair ability, with ambitious purposes, a congenial disposition, possessed of good morals and having a high sense of honor and a deep sense of personal responsibility."
While in uniform, while serving as the Honorary Colonel of the 75th Regiment and in retirement, Col. Puckett has demonstrated to generations of soldiers, officers and Sigma Chis the standards to which we all should strive to achieve.
The close relationship between Sigma Chi and military service is well-known. Throughout our nation's history, Sigma Chis have been drawn to serving especially during times of conflicts. In fact, nearly 10,000 Sigma Chis served their country and wore the uniform during World War II, and 738 made the ultimate sacrifice.
Sigma Chis have served in every conflict since the Civil War, and to date 918 Sigma Chis have been killed in the service of their country.
I find it wholly appropriate that we meet here at the National Infantry Museum, a place that memorializes the soldiers who demonstrated our shared virtues and values to present this award to Col. Puckett.
To the Puckett family, I again want to let you know how much Col. Puckett means to us and thank you for sharing him with us.
Our nation is blessed to have men like Col. Puckett, and it is truly remarkable how many lives he has touched.
Col. Puckett, thank you again for the lifeline you threw me at RASP. I certainly would not be here today without you. And, more importantly, thank you for the example you set, thank you for challenging us to be better in every aspect of our lives, and thank you for the positive influence you have been to thousands of soldiers, Sigma Chis and families. There is no doubt that the White Cross of Sigma Chi has gained new luster by your life.
Rangers Lead the Way! In Hoc Signo Vinces!