The White Rose
Ceremony
"We meet because of his passing from our circle to the Chapter Eternal; and yet in our hearts is the confidence that his living spirit hovers near."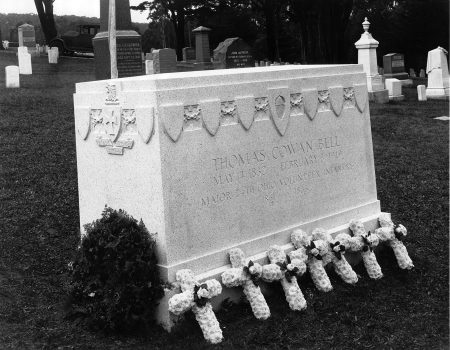 In 1909, the service in memoriam was officially added to the Ritual. More than a century later, the beautiful White Rose Ceremony is publicly conducted as a final honor to the life of a Sigma Chi and to recognize the brother's entrance into the Chapter Eternal.  
The White Rose Ceremony may be conducted in two ways: as part of a memorial service and at a cemetery. In both, brothers who are present don white roses over their hearts. Then, each brother places his rose on the casket. After honor is called to the name of the deceased, the words spoken by the leader of the ceremony are short, yet poignant and true to the spirit of Sigma Chi: 
The service in memoriam is one of four portions of the Ritual that can be conducted publicly. It provides a brief, but powerful glance at the meaningful words of Sigma Chi to those outside of our order, showing them the importance of the bonds of our brotherhood. To access a PDF copy of Sigma Chi's White Rose Ceremony and service in memoriam, click the button below.
Please submit the form below to let Sigma Chi International Fraternity headquarters know of a brother's passing. A member of our professional staff will update our records for the deceased brother and he will be listed in the Chapter Eternal section of an upcoming issue of The Magazine of Sigma Chi. If the brother received the Fraternity's Significant Sig Award or was inducted to the Order of Constantine, a 100-word obituary and headshot of him will be published in The Magazine.